This past weekend I took SchmoopyBoy to the Chinese New Year Festival at our local Chinatown Plaza. I wasn't sure if we would be able to make it, as he had been sick for a couple of days and I wasn't sure if he would be up for it. Of course, all I had to do was mention that there would be dragons and drums and he was
ready to go
!
We got in the gate just in time for the lion dancing to start. SchmoopyBoy was enraptured. I knew I would be hearing about "dragons" (I suppose they do look more like dragons than lions, especially to a 2 year old) for a while, I had no idea the extent to which he is totally obsessed. He wants to see pictures of lion dancing, he wants to see videos of lion dancing, he wants to see Real! Live! Lion! Dancing! all day every day.
His cold took a turn for the worse today. His temperature got up to 104 a couple of times during the day so I left work early to meet the husband and kiddo at the doctor's office. He thoroughly enjoyed all the gadgets the doctor broke out. He was an awesome little patient, if I do say so myself. And on the way home, he made it abundantly clear that he wanted....
MORE LION DANCING!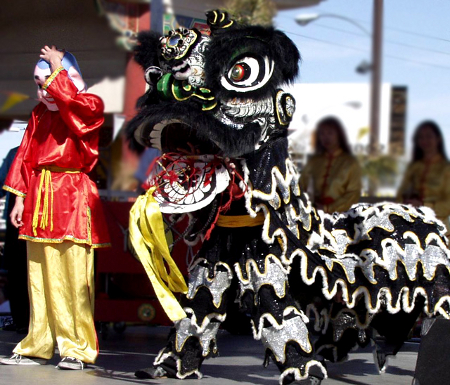 I did not take this picture. I was kicking myself for leaving my camera at home. This is a picture from the
Lohan School of Shaolin
, which performed the lion dances as well as some Kung Fu demonstrations.